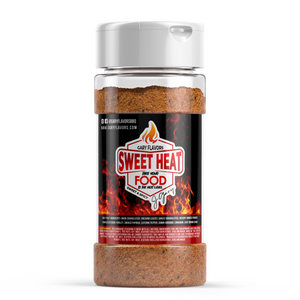 SHIPPING:
This seasoning is made-to-order. All orders are fulfilled and shipped within 2-7 business days of your purchase. You will receive a tracking number via email.
TASTES LIKE: 
Take your food to the next level! Gary's Sweet Heat Seasoning offers the perfect balance of sweet and spicy natural flavors. This savory blend packs a kick of mild heat followed by a sweet chili aftertaste. Tastes so good, you can eat the seasoning by itself straight out of your hand! 
INGREDIENTS:  
Onion (granulated)
Oregano Leaves
Garlic (granulated)
Hickory Smoked Powder
Granulated Sugar
Parsley

Smoked Paprika
Cayenne Pepper

Cumin (ground)

Cinnamon

Light Brown Sugar
ALLERGY WARNING: 
This homemade seasoning is made with all-natural ingredients that are FDA approved. We did our best to avoid ingredients related to common allergies, so rest assured that there are no derivatives of nuts, eggs, fish, or dairy products in our recipes. As we are not culinary experts or medical professionals, Gary Flavors advises conducting your own research before purchasing or consuming any food-related items. If you believe that you are allergic to any of our ingredients, or have any health issues that require dietary restrictions, be sure to consult a physician before purchasing our products. By purchasing this homemade product, you are volunteering to consume it and all of its contents at your own free will. Enjoy!