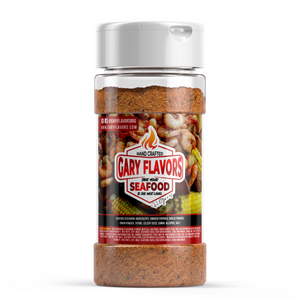 SHIPPING:
This seasoning is made-to-order. All orders are fulfilled and shipped within 2-7 business days of your purchase. You will receive a tracking number via email. 
TASTES LIKE: 

Take your seafood to the next level! Gary's Seafood seasoning offers a mixture of savory, smoky, and aromatic spices with garlic and onion undertones to compliment fish, shrimp, crab, and so much more. Mix with your favorite brand of cornmeal for fried seafood favorites. Add it to your favorite boiled, baked, roasted, or grilled seafood recipes for enhanced flavors that'll make you lick your fingers! 
INGREDIENTS:  
Smoked Paprika


Garlic Powder

Onion Powder

Thyme

Celery Seed

Cumin 

Allspice

Salt
ALLERGY WARNING: 
This homemade dry rub is made with all-natural ingredients that are FDA approved. We did our best to avoid ingredients related to common allergies, so rest assured that there are no derivatives of nuts, eggs, fish, or dairy products in our dry rub. As we are not culinary experts or medical professionals, Gary Flavors advises conducting your own research before purchasing or consuming any food-related items. If you believe that you are allergic to any of our ingredients, or have any health issues that require dietary restrictions, be sure to consult a physician before purchasing our products. By purchasing this homemade product, you are volunteering to consume it and all of its contents at your own free will. Enjoy!